Preparation based on Camargue Salt with Black Truffle 50gr
To elegantly season your dishes!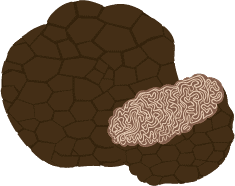 Truffles -
5%
Free Colissimo delivery within 48h from 70€ purchase.
It can season your dishes such as a risotto, scallop carpaccio or homemade mashed potatoes.
To give more taste to your dishes, nothing better than salt flavoured with black truffle, the Provencal diamond. The Truffle holds a privileged place in the aix&terra range. The Manufacture offers more than a dozen creations made with the winter truffle tuber melanosporum and the summer truffle tuber aestivum, both grown in Provence.
A preparation to make you discover the truffle as a seasoning for all your dishes!
Recipe idea: Carpaccio of scallops and black radishes, salted with truffle salt
Camargue salt (95%), black truffle (Tuber melanosporum) (3%), truffle flavouring (2%). Keep dry after opening.
Click on your favourite ingredients to discover the associated products!
Garlic

Lemon

Artichoke

Pepper

Eggplant

Olives

Truffles

Valrhona Chocolate

Fig

Basil

Sardine

Tomato