Summer Truffle & Onion Confit Tartar 90gr
An original starter for your festive dinners!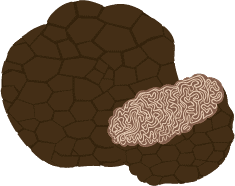 Truffles -
41%
Free Colissimo delivery within 48h from 70€ purchase.
The Truffle holds a privileged place in the aix&terra range.
Flavoured with organic olive oil, cooked over a low heat, cut into small cubes, the onions caramelise to bring sweetness to this exceptional product. A tartar sublimated by the truffle peels. The Tartar contains 40 % of summer truffle and 10% of garlic cream.
Tuber Aestivum is harvested in Provence from June to August. Less rare than the winter Tuber Melanosporum, this allows us to introduce it in quantity in our recipes.
As an aperitif toast, in an omelette or in risotto! Tartar can also be mixed with potatoes.
Summer truffle (Tuber aestivum) skins (41%), sweet onions (33%), olive oil, truffle flavouring (1%), salt. Keep in a cool place after opening.
Click on your favourite ingredients to discover the associated products!
Garlic

Lemon

Artichoke

Pepper

Eggplant

Olives

Truffles

Cocoa

Fig

Basil

Sardine

Tomato