Preparation based on Fig Pulp Vinegar 1L
Delicious preparation based on fig pulp. *non-contractual photo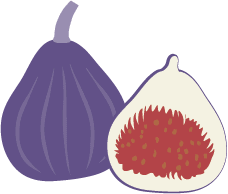 Fig -
44%
Free Colissimo delivery within 48h from 70€ purchase.
A touch of pep for your dishes!
Delicious preparation based on PDO Provence fig pulp! The fig brings a sweet taste to vinegar, it can replace a classic balsamic vinegar and make your dishes more festive.
Made in Provence - Craft manufacturing
Particularly recommended for green salads in vinaigrette, it can also be used to deglaze meat. And why not also a duck breast?
Purple fig pulp (40%), cane sugar, spirit vinegar (32%) (sulphite), gelling agent: pectin.
Click on your favourite ingredients to discover the associated products!
Garlic

Lemon

Artichokes

Pepper

Eggplant

Olives

Truffles

Cocoa

Fig

Basil

Sardine

Tomatoes